Eastside
Summary
Allegiant owns 100% of the district-scale Eastside Gold-Silver project located 35km from the town of Tonopah in mining friendly Nevada, one of the world's top mining jurisdictions.
The project has outstanding infrastructure for mining with a high-voltage power line passing through the northern boundary of the property and highway US 95 through the southern boundary. Preliminary metallurgical testing indicates that gold at Eastside is amenable to cyanide leaching for both oxide and sulfide mineralization.
1.1 million ounces of inferred gold and 8.8 million ounces of inferred silver resources have been defined at the Original Zone, which remains open to the south, west and at depth, and possibly to the north and east. The southern margin of the property also hosts historical near surface oxide gold resources. To date, seven (7) large geochemical anomalies have been identified on the property. In addition, ALLEGIANT has identified 314,000 inferred gold ounces at the Castle Area in the south of Allegiant with potential for increased resource expansion.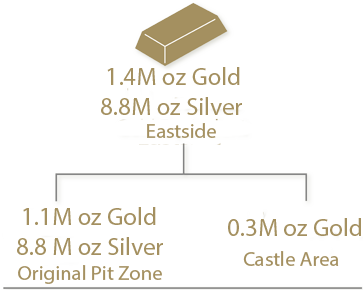 EXPLORATION
|   | Metres | Feet |
| --- | --- | --- |
| 2023 | 2,400 | 7,874 |
| 2022 | 11,257 | 36,932 |
| 2021 | 3,679 | 12,070 |
| 2019 | 3,170 | 10,400 |
| 2018 | 8,265 | 27,116 |
| 2017 | 2,938 | 9,639 |
| 2016 | 17,455 | 57,267 |
| 2015 | 12,464 | 40,892 |
| 2013 | 5,367 | 17,608 |
| 2011 | 2,148 | 7,047 |
| Total | 69,143 | 226,847 |
More
Subscribe to our Email List