Bolo
The Bolo Project is 100% owned by ALLEGIANT, subject to underlying royalties, and is located 90 kilometres northeast of Tonopah, Nevada. In June 2018, ALLEGIANT entered into an agreement with New Placer Dome (formerly Barrian Mining Corp.) under with New Placer Dome may acquire, under which New Placer Dome may acquire up to a 50.01% undivided interest in Bolo by issuing common shares of New Placer Dome to ALLEGIANT, with an aggregate value of US$1 million over a three-year period, and by also incurring exploration expenditures on Bolo of US$4 million by December 31, 2022. New Placer Dome may earn an additional 24.99% interest in Bolo, by incurring an additional US$4 million in exploration expenditures within two years of earning its initial 50.01% interest. If New Placer Dome does not earn an additional 24.99% interest in the required time-frame, then New Placer Dome will transfer a 0.02% interest in Bolo back to ALLEGIANT, so that ALLEGIANT will retain a 50.01% controlling interest in the project.
Gold mineralization at Bolo is Carlin-type, similar to Pinson, Lone Tree/Stonehouse, and Turquoise Ridge/Getchell, all multi-million-ounce Nevada producers, where gold spreads into wall rocks along high-angle structures. Surface sampling at Bolo has defined widespread gold mineralization, associated with jasperoids and iron-stained structures, along two parallel north-south trending faults known as the Mine Fault and the East Fault. Alteration along the Mine Fault has been traced for 2,750 metres, with outcrop sampling returning gold values up to 8.6 g/t gold. The East Fault has been mapped for 2,200 metres and has returned gold values up to 4.7 g/t gold.
The Mine Fault and the East Fault and dozens of altered outcropping and buried cross-faults at Bolo have had very limited drilling and represent excellent exploration targets.
In the summer of 2017, one of the many previously undrilled areas at Bolo was targeted with a modest 14-hole reverse-circulation reconnaissance drilling program totaling 2,806 metres. Eleven (11) holes tested the newly acquired Uncle Sam patented claim that covers a 500 metre strike extension of the south zone of the Mine Fault, an area that was previously drilled with excellent results, including hole BL-38 which returned 133 metres of 1.28 g/t gold from the surface (including 30.5 metres of 3.24 g/t gold), hole BL-39 which returned 89.9 metres of 1.0 g/t gold from surface (including 40.9 metres of 2.05 g/t gold), and hole BL-41 which returned 51.8 metres of 1.27 g/t gold from surface. Drilling on Uncle Sam in 2017 returned 19.8 metres of 0.97 g/t gold (hole BL-55), 33.5 metres of 0.96 g/t gold from surface (hole BL-61), and 57.9 metres of 41.13 g/t silver from the surface (including 7.6 metres of 220 g/t silver) (hole BL-54).
In addition to drilling on Uncle Sam, three (3) holes of the 2017 campaign were drilled to test extensions of the Mine Fault to the west and north. Hole BL-65 was drilled approximately 200 metres north of BL-61 and returned 16.8 metres of 0.66 g/t gold.
All of the gold mineralization intercepted at Bolo is logged as "oxidized" and is Carlin-type mineralization associated with weak silicification and decalcification of Paleozoic sedimentary rocks.
In 2019, New Placer Dome drill 10 reverse circulation (RC) holes totaling 1838 meters to follow up on the previous work done by ALLEGIANT (results of the drill program can be found at https://newplacerdome.com/news/). New Placer Dome has announced plans for a 12 hole program totaling 3,500 meters to test the Mine Fault and other mineralized structures that host the South Mine Fault, Uncle Same, and Northern Extension mineralized gold zones.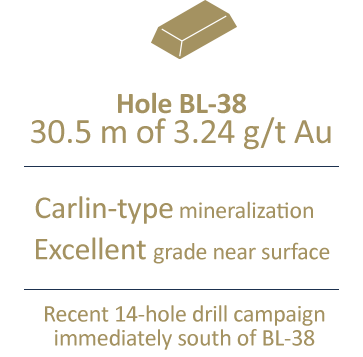 Subscribe to our Email List