Projet Eastside
Resources
The Eastside Gold Project hosts a NI 43-101 Inferred Resources at the Original Zone and Castle Zone located in the northern part of the property (McIntosh Zone) and remains open to south, west and east and at depth. The Castle Zone also hosts a NI 43-101 Inferred resource with significant expansion potential.
At a cut-off grade of 0.15g gold per tonne and a US$1,750 gold price and US$21.88 silver price, Allegiant Gold calculates from the estimated resources that Eastside contains pit-constrained Inferred resources of 61,730,000 tonnes grading 0.55 g/t gold and 4.4 g/t silver, for a total of 1,090,000 ounces of gold and 8.7 million ounces of silver. The results and sensitivities are summarized in the following tables: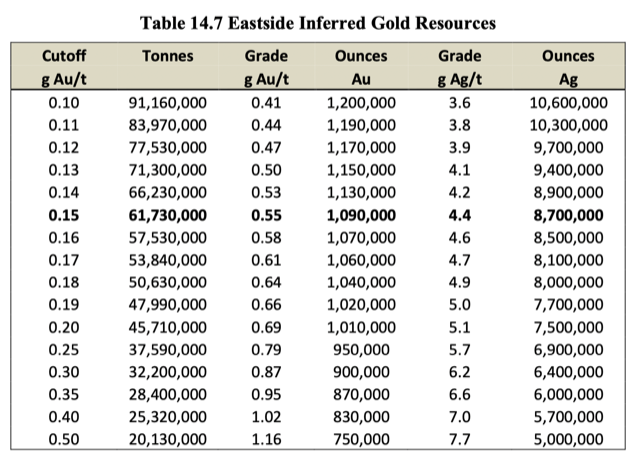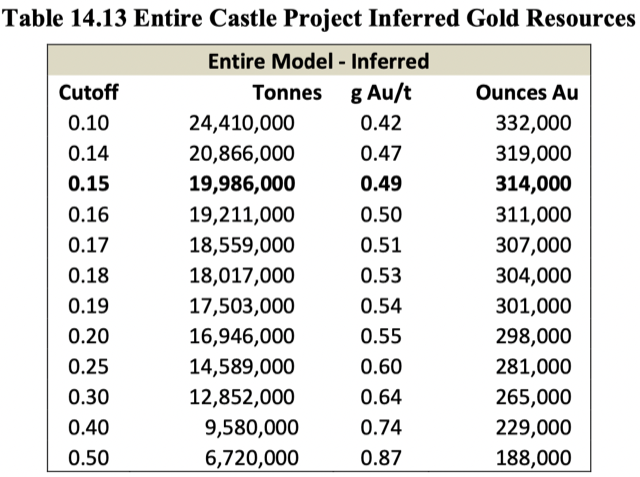 * The updated resource estimate ("Updated Resource Estimate and NI 43-101 Technical Report, Eastside and Castle Gold-Silver Project Technical Report, Esmeralda County, Nevada") conducted by Mine Development Associates ("MDA") of Reno, Nevada, with an effective date of July 30, 2021, contained a pit-constrained Inferred Resources (cut-off grade of 0.15 g/t Au) of 61,730,000 tonnes grading 0.55 g/t Au and 4.4 g/t Ag at the Original Pit Zone (1,090,000 ounces gold and 8,700,000 ounces silver) and 19,986,000 tonnes grading 0.49 g/t Au at the Castle Area (314,000 ounces gold). A copy of the Eastside Technical Report can be found on SEDAR at www.sedar.com.
Alan Roberts is a Certified Professional Geologist (CPG) with the American Institute of Professional Geologists and is the Qualified Person under NI 43-101 who has reviewed and approved the technical content of this project description.