Mogollon
Stage
Exploration
The Mogollon Project ("Property") is currently farmed-out to Summa Silver who has completed the first option agreement and currently owns 75% of the Property. Summa can elect to acquire 100% of Mogollon on or before December 18, 2023, by making a US$3 million payment to Allegiant or form a 75/25 Joint Venture with Allegiant. Please refer to Summa Silver's website at https://summasilver.com/ for additional information.
Geology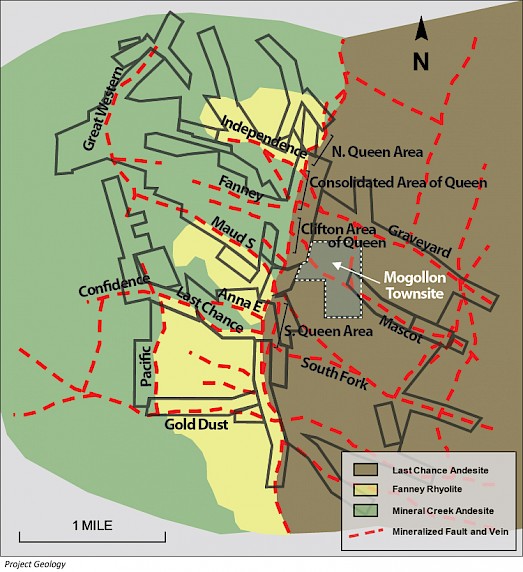 Mogollon covers an extensive, silver-gold bearing epithermal vein field on a caldera margin of the Tertiary Bursum volcanic center. The Mogollon silver-gold deposits are classic epithermal veins which demonstrate good continuity of grade and thickness for strike lengths of up to 4,000 ft (1,219 m) in the Little Fanny and Last Chance mines and through a remarkably consistent, elevation-controlled vertical range of about 1,000 ft (305 m). There are two sets of veins at Mogollon, an east-west set represented by the productive Little Fanny and Last Chance veins, and a north-south set represented by the Queen vein developed in the Consolidated Mine.
Past Work
Recorded historic production, largely from the Little Fanny and Last Chance mines during the period 1905 to 1925, and the Consolidated Mine from 1937 to 1942, consists of 15,700,000 ounces silver and 327,000 ounces gold from about 1.7 million tons (1.5 million tonnes) of ore. Mining ceased in 1942 due to the wartime cessation of all gold and silver mining in the United States. Modern exploration activity at Mogollon has been limited to small programs by St. Joe Minerals, Cordex and John Livermore in three programs between 1982 and 1988 and consisted of 40,000 ft (12,192 m) of drilling in 53 rotary and core holes which were successful in outlining a partially delineated silver-gold deposit in the Queen vein. Significant intercepts of gold and silver were also encountered in a number of other veins including Anna E, Last Chance, South Fork, Mascot and Graveyard. Significant intercepts of the drilling include:
On the Consolidated area of the Queen vein:
Hole MGR-38
33 feet, true width, of 0.13 opt gold and 6.4 opt silver
10 meters, true width, of 4.4 gpt gold and 219 gpt silver
Hole MGR-35
7 feet, true width, of 0.207 opt gold and 15.26 opt silver
2.1 meters, true width, of 7.1 gpt gold and 523 gpt silver
Hole MGR-08
11 feet, true width, of 0.139 opt gold and 10.85 opt silver
3.4 meters, true width, of 4.7 gpt gold and 372 gpt silver
Hole MGR-13
10 feet, true width, of 0.179 opt gold and 11.42 opt silver
3.0 meters, true width, of 6.1 gpt gold and 391 gpt silver
On the south portion of the Queen vein:
Hole MGR-02
25 feet of 0.23 opt gold and 1.18 opt silver
7.6 meters of 7.9 gpt gold and 40 gpt silver
Hole MGR-32
10 feet of 0.17 opt gold and 10.91 opt silver
3 meters of 5.8 gpt gold and 374 gpt silver
On the Clifton area of the Queen vein:
Hole MGR-18
6 feet, true width, of 0.45 opt gold and 19.57 opt silver
1.8 meters, true width, of 15.4 gpt gold and 671 gpt silver
On the Anna E. vein:
Hole MGR-30
5 feet of 0.415 opt gold and 15.49 opt silver
1.5 meters of 4.7 gpt gold and 372 gpt silver
On the South Fork vein of the East Block
Hole M-2
6 feet of 0.085 opt gold and 4.83 opt silver
1.8 meters of 2.9 gpt gold and 165 gpt silver
>> Click here for a complete list of significant results
In January 2010, Columbus Gold drilled 2,210 metres of core in eleven holes at Mogollon. The drilling was exploratory in nature, concentrated on the Anna E. vein, the Ida May-Independence vein system, and the uppermost levels above the Consolidated deposit which was partially delineated by drilling in the 1980's.
Three holes were drilled by Cordex at Anna E. in 1984 and all intersected the vein between the surface and 300 feet of depth. Drill hole MGR-29 cut five feet grading 0.290 opt Au (9.93 g/t) and 5.55 opt Ag (190 g/t), drill hole MGR-30 cut five feet grading 0.415 opt Au (14.2 g/t) and 15.40 opt Ag (530.5 g/t), and drill hole MGR-2 cut 25 feet grading 0.230 opt Au (7.88 g/t) and 1.19 opt Ag (40.7 g/t) which included five feet of 0.565 opt Au (19.35 g/t) and 2.56 opt Ag (87.7 g/t). This zone remains completely open to the west but does not appear to extend to depths below 300-350 feet in the area drilled.
Five holes were drilled at the Ida May-Independence vein system; these were the first holes ever drilled on these veins. Drilling cut the system between 6,900 and 6,950 feet of elevation, below barren surface faults with minor veining exposed at 7,160 and 7,380 feet of elevation. Between 45 and 90 feet of quartz stockworks and veins were cut in all of the holes, however the best grade was 0.063 opt Au (2.15 g/t) and 3.23 opt Ag (110.7 g/t). The vein widths and degree of alteration are increasing with depth and further drilling is recommended to cut the structures at 6,200-6,400 of elevation.
Three holes were drilled to test the area between the surface and mineralized intercepts encountered in the 1980's drilling by Cordex on the Consolidated deposit on the Queen vein. The recent drill holes were planned to cut the vein above the 1980's drill hole MGR-14 which cut 72.5 feet grading 0.084 opt Au (2.87 g/t) and 3.93 opt Ag (134.6 g/t), including 21 feet (16 feet true width) of 0.147 opt Au (5.03 g/t) and 7.11 opt Ag (243.5 g/t) at a depth of about 1,000 feet. Hole MGC-48 was positioned to step-out 400 feet updip from the historical Consolidated deposit and cut the Queen vein at 500 feet below the surface. The hole intercepted 150 feet of mostly calcite, with much lesser quartz, and carried little grade. Drill hole MGC-54 was positioned to step-out 200 feet updip from the Consolidated deposit but deviated upwards 10-15 degrees missing the target and was therefore abandoned.
Drill hole MGC-55 was drilled to intersect the target missed by hole MGC-54 however it also deviated by approximately 2.5 degrees, but it did cut the Queen vein about 215 feet above the mineralized intercept in MGR-14. The vein had a much higher percentage of quartz at this level, and was well mineralized, but over narrow intervals.
Excellent resource expansion potential exists at Mogollon as only 4.8 km of the total 72 km epithermal vein system has been developed.
Subscribe to our Email List